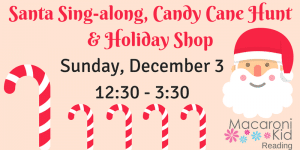 Great holiday event for the whole family! Enjoy a holiday sing-along with Makin' Music Rockin' Rhythms, bring your camera to get your photo taken with Santa, hunt for some candy canes (if you find a GOLD one, you win a prize!), make holiday crafts, and shop for your holiday gifts all during this great family-friendly event hosted by the Pottstown YMCA and Macaroni Kid Reading PA! There will be food available for purchase, as well as Raffle Tickets.
Candy Cane Hunt, crafts & Holiday Shop are FREE! Since space is limited for the Santa Sing-along, you must purchase a ticket. Tickets are free for Pottstown YMCA members, but you must still have a ticket. If you sign up for free tickets, your membership status at the Pottstown YMCA will be checked, and the ticket will not be valid if you are not a member. Tickets for non-members are $6.27 (Ticket + Eventbrite fee).
Times for the Sing-along are 1:00-1:45 & 2:15-3:00.
You only need to sign up for 1 ticket for your family. You will be emailed to find out how many will be attending with you.
DATE AND TIME
Sun, 3 December 2017
12:30 PM – 3:30 PM EST
LOCATION
Pottstown YMCA
724 North Adams Street
Pottstown, PA 19464